The 2019 FSS Conference
November 13:th through 14:th, the yearly Food Science Sweden conference were successfully held and much well attended with over a hundred delgates. The conference compriced a broad spectrum of activities on the topic Food Tech, with highly inspiring speakers alongside interesting study visits and demonstrations, well prepared PhD student pitches and a generous amount of opportunities for networking.
Stay tuned for more updates from the conference, including photos and speaker presentations!
Register for the 2019 FSS Conference
It is time for the yearly Food Science Sweden conference! This time the conference takes place in Lund and Alnarp and its theme is Food Tech. Owing to previous years successes we will this year meet over two days, 13th and 14th of November. The conference will bring together food scientist from organisations, such as SLU, LU, Chalmers, RISE, MaxIV and the German Institute of Food Technologies.
Find the program here: FSS-conference_Lund-&-Alnarp_13-14nov
We welcome active PhD-students, researchers and industry to take part of lectures, demonstrations, discussion and poster sessions. Instructions for the poster session are provided in the registration form and confirmation letter. Roll-ups and information from research organizations can be brought and presented at the Interactive session November 13th. Please contact: jeanette.purhagen@food.lth.se
Register HERE no later than November 4th. The conference is free of charge, however a no show fee of 500 SEK may be charged.
For further information, contact: yvonne.granfeldt@food.lth.se, karin.ostergren@ri.se or anna.strom@chalmers.se
Accomodation
Radisson Blu:
Reservations of hotel rooms have been made for the conference at hotel Radisson Blu. Price per night: 1 568 SEK for single rooms and 1 668 SEK for double rooms (including VAT and breakfast). To book a room, e-mail to: Meetings.lund@radissonblu.com / Reservations.lund@radissonblu.com or phone: 046-270-37-10; specify booking code: 3526283 or Food Tech Logi
Hotel Finn
Also Hotel Finn has rooms reserved for this conference; the rooms are reserved up until October 27. To book a room, e-mail to: bokning@grandlundiafinn.se or phone: 046-280-62-00; specify booking code: 677454
Elite Hotel Ideon:
And Elite Hotel Ideon has rooms reserved for this conference; the rooms are reserved up until October 25. Price per night: 1 690 SEK (including VAT and breakfast). To book a room, e-mail to: reservation.lund@elite.se or phone: 046-287-11-00; specify booking code: Food Tech
Other hotels:
Clarion Collection Hotel Planetstaden
Venues
Day 1: IKDC, Sölvegatan 26, Lund. See map.
Day 2: SLU Alnarp, Crafoordsalen, Sundsvägen 5, Alnarp. See map.
The 2018 FSS Conference
On the 21th of November 2018 we met at Örebro University to join the 2nd FSS Conference, this year with the theme 'Food and inflammation'. Find the full program here:
FSS Conference Programme 2018
The morning started out with a welcoming opening of the conference by Robert Brummer (Örebro University, OrU) and Anna Ström (Chalmers), who informed us about Örebro University and Food Science Sweden.
First out of the keynote speakers was Prof. Eric Claassen who gave an inspiring presentation about innovation barriers. Then followed a row of interesting speaches: Mathias Tabat (OrU) about butyrate; Frida Gorreja (OrU) about bacteria and intestinal barrier function; Lina Tingoe (LiU) about microRNA in breastmilk; Josefin E Löfvenborg (KI) about sweetened beverages and type 2 diabetes; Joana Dias (LU) about inflammatory potental of diets as a riskfactor for cardiovascular diesease; and finally Patricia Lopez-Sanchez (RISE) who told us about the functionality of fibres in plant-based foods.
It was a rewarding morning, full of interesting research from different areas of the broad field of food science. After a one hour break with a tasty lunch buffet and a lot of networking, we continued with the afternoon programme. Keynote speaker Tuulia Hyötyläinen (OrU) kick-started the afternoon with a speech on metabolomics, followed by the next keynote speaker Olena Prykhodko (LU), who gave a presentation on dietary fibres. Next, we got to listen to short presentations on butyrate-producing gut bacteria (Savanne Holster); modification of gut microbiota (Julia Rode); tiff fermentation (Yared Hailaye); and a new potato with more resistent starch (Xue Zhao).
After the scientific presentations three groups of talented LiFT graduate students presented their views on challenges in the food chain. They just finished a LiFT-arranged graduate course and now gave us the privilege to take part of summaries of their workshop discussions.
The conference ended with a panel debate with the theme 'What is the future of food and nutrition science in an interdisciplinary setting?', led by Robert Brummer.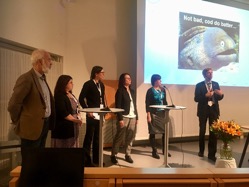 The conference was then closed and Anna Ström welcomed us all to participate on the 3rd FSS Conference, which will take place on the 13-14th of November, 2019, in Lund.
The 2017 FSS Conference
On the 8th of December 2017, the FSS Conference was held at SLU, Uppsala. We had a great day in "Ladan", an old building with fantastic atmosphere. The theme of the meeting was "Current research, strengths and priorities for the future", with an important aim being to set up a document for future priorities in food science research.
It was an intense day with interesting talks by international speakers Harry Barraza (Arla Foods, DK) and Michael Muller (Norwich Medical School, UEA, UK) and Turid Mørkøre (NOFIMA, NO), as well as presentations by PhD-students Mursalin Sajib (Chalmers) and Jing Lu (SLU).
Just before lunch we got short presentations of some of the posters in the poster exhibition and during the lunch break, we were all strolling around to study and discuss all the interesting posters brought by our ambitious researchers.
The afternoon was dedicated to the National Research Strategy, starting with a presentation of the Swedish Food Strategy by Inger Anderson, who is the chair of the National Committee for Food Science Research and Erika Ax from FORMAS. We also got a very interesting bibliometric overview of our research strengths from the leader of FSS, Anna Ström, Chalmers, as well as short summaries of the research at the different FSS partner organisations. The final activity of the day was a workshop with the theme "What are the top national food research priorities and how do we collaborate tho achieve them?". There were intense discussions and we are looking forward to summarise and present the results as a part of the work towards a future national research strategy.
Find the full programme here.
Results from workshop here: Summary FSS workshop 171208
Some photos from the conference: